Introducing Persona IQ The Smart Knee
Is it time for a knee replacement?
That's a question you and your orthopedic surgeon will have to answer together. But when knee pain is so bad it actually interferes with the things you want or need to do, the time may be right. Getting a precise knee implant fit is an important key to your comfort and overall experience following knee replacement surgery. The size, shape, and fit of your knee implants can make a big difference in your satisfaction after total knee replacement. Thats why we use Persona® Knee Implants at our facility, designed to give us more options to better match your bone's anatomy.
Introducing the latest addition to the Persona Knee family, Persona IQ®, The Smart Knee®
We are pleased to partner with Zimmer Biomet to introduce the smart knee implant, Persona IQ, the only implant that keeps you connected to your healthcare team every step of the way.
How It Works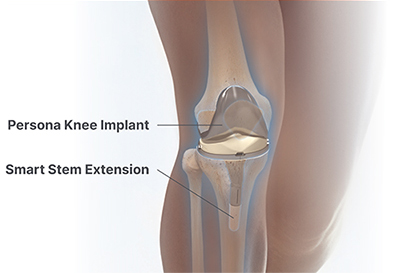 Your surgeon will start by selecting Persona Knee Implants that best match your knee's anatomy. On the bottom portion of the implant, a small "smart" stem extension is attached. This stem contains sensors that capture information like your range of motion, stride length, walking speed, step count, distance traveled and cadence.
Secure Data Flow Between You and Your Care Team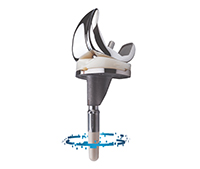 Your Persona IQ implant collects activity data throughout the day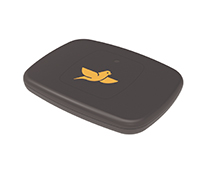 Home Base Station transmits Persona IQ data to the mymobility® app automatically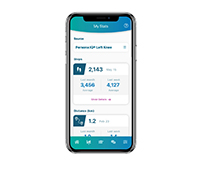 Persona IQ post-surgery data is easily accessable and viewed by you and your surgeon through the mymobility app
Stay Connected with mymobility®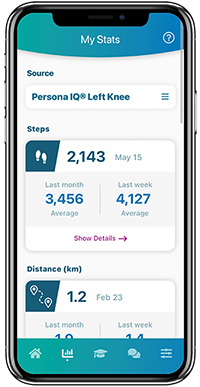 The data collected through the Persona IQ Implant can be viewed by you and your care team on mymobility, our Care Management Platform. The mymobilty app gives you constant connection to your care team, so you'll receive helpful reminders, progress reports, and support that's unique to you.
mymobility is a personalized way to keep you moving and connected to your care team throughout your recovery process and assist you in may ways including:
Understanding your condition and optimizing your health prior to surgery
Learning what to expect the day of surgery
Data about your activity levels and progress with your care plan is supplied to your surgeon and care team to help them determine your need for extra direction or follow-up care.
Knowing steps you can take to help minimize complications after surgery
Offering guidance as you work toward regaining mobility
Sounds great, right? Persona IQ is simple to use!
Persona IQ fits seamlessly into your life. You'll simply set it up one time. Then, it automatically collects data overnight, sending data directly to your doctor.
Persona IQ collects data on:
The Range of Motion in Your Knee

The Distance You Walk

Your Step Count

Your Walking Speed

Your Stride Length

Cadence
Persona IQ does NOT collect data on your location.
Frequently Asked Questions
How is my data accessed?
You, your surgeon, and medical care team will be able to view your data via a secure online portal.
How will my data be used?
The data will be used by your medical care team as long as you continue sharing your data. If you decide you no longer want your data collected, you can simply opt out. Talk to your doctor for information on how to opt out. Outside of regulated implant reportable data elements, your historical data will be anonymized once you have opted out of data sharing.
Who has access to my data?
Your data will be available to your medical care team and authorized administrators (Zimmer Biomet and Canary Medical)) of your Persona IQ Smart Stem Implant. You can also view your information on your patient dashboard
Will the smart implant track my location?
No, the Persona IQ Smart Stem Implant is not a GPS tracking device.
Do I need to tell other doctors about the implant if I need a different surgery?
It's always good to inform your physicians about your medical history.
Can the battery inside the smart stem device hurt me?
Some medical procedures use medical equipment that introduces electrical currents into your body. These procedures may not be safe with your smart stem implant. Inform your health care provider that you have a smart implant before any medical procedure.